Happy Monday! It's a brand new week for making terrible decisions!
I hope you all had a lovely weekend celebrating the brave ladies that birthed you and still put up with you. I love Mother's Day, not only because I'm able to celebrate my lovely mom (and all the other moms in my life) but because I'm still young enough to be considered one of the kids and not expected to pay for dinner (and that means Mother's Day is like an all-you-can-eat buffet day for me). But I am turning 25 this week so I might not be able to dodge the bill for much longer…
Anyway, summer is right around the corner, we are only five months in to the year and I'm already burnt out (surprise, surprise) so my husband and I have begun planning our vacation. Instead of my yearly summer trip to visit my family in Puerto Rico (sorry, dad), we've decided to take two weeks off from work and drive to California.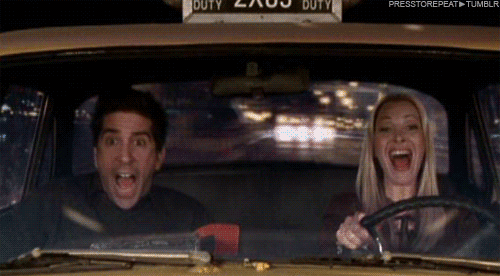 We have never vacationed alone for long periods of time apart from our honeymoon, so this will be a true test of our marriage and my dwindling patience. We will be renting a car and flying back on our return trip, so if you have any car recommendations comment below!
Some of the places we are excited to hit up include vineyards, museums and more specifically Cafe Du Monde, visit Baylor Street in Austin, cool off at Barton Springs, get dizzy at the Carousel Bar & Lounge, dehydrate at the Saguaro National Park and stare at a big hole in the ground–The Grand Canyon.
As a novice road tripper, I've been reading up on the best apps to have while on the road and apart from the obvious ones (music, maps, online booking engines for hotels and podcasts) I downloaded a few other ones that might come in handy during the trip.
Roadtrippers: I love this app because once you input your travel dates and the cities you're interested in stopping at, it'll map out the best route for you. It will also find restaurants, popular area attractions and more based on your location. One of my favorite features on the app is the option to explore other trips like Classic USA Road Trips, 48 Hrs – Weekend City Guide, Filmtrippers (Parks & Rec road trip, anyone?) and more!
Hotel Tonight: Similar to an online booking engine, Hotel Tonight will search for available hotels close to your location, showing results for every budget and you can track rates to see if they change. When you sign up, make sure to share your promo code with your friends so that they get $25 off when they book and you'll also get $25 off on your next booking!
TVFoodMaps: I'm always thinking about my next meal so TVFoodMaps is perfect because it features over 4,000 restaurants featured on 48 shows. But don't worry about me rapidly gaining weight on this trip or falling into a deep food coma. My husband is making me go HIKING every chance he gets!
Do you have any app or car recommendations for our great American road trip?  Leave 'em below! 
xx