In seventh grade, I was awarded a shiny, gold, medal. It was given to me out of sheer pity by my physical education teacher during our Field Day. It was a participation medal for being the worst left midfielder in the history of soccer. Things haven't improved much since.
I'm not sure if you're aware but I have the athletic prowess of an uncooked noodle, so starting the 21 Day Fix after a lifetime of putting zero effort into working out was quite the adventure.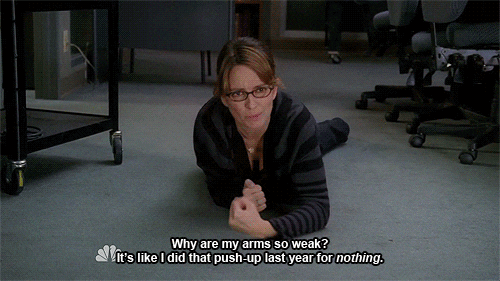 Stats:
Weight: 143 pounds
Waist: 31 inches
Round One of the 21 Day Fix: Random Thoughts
Day One, Total Body Cardio Fix: After thirty minutes of surrenders, side shuffles, x-country skiers, knee pulls and oblique crunches, I needed my inhaler. It was hard keeping up, but I powered through. The most exercise I had gotten recently was running barefoot from the garage to the mailbox on a particularly cold and rainy day. There is no way the instructor, Autumn Calabrese, is real and I am 99.9 percent sure she is a robot created by BeachBody to boost sales.
Day Two, Upper Fix: I went too hard on Day One, refusing to modify any of my exercises and woke up in the most unimaginable pain. The upbeat music on the DVD didn't fool me anymore. Today I was Kat the Modifier. Kat is the only girl on the DVD series with a normal body. She demonstrates the modified exercises for us weaklings and only uses a pair of light weights (which is perfect because I still haven't run out to buy heavier weights…). This day wasn't any easier. With exercises like the transverse twist, push-ups and planks to scissor twists and front raises, I seriously wondered if Sleep Gym was a thing I could sign up for.
Day Three, Lower Fix: My legs were still in pain from Day One and I had no idea how to alleviate them. Turns out that the only way to make them stop hurting is to exercise some more. I was starting to get the hang of this! My legs were on fire from the side lunges, sumo squats and thigh lifts and I completely forgot I was in pain.
Day Four, Pilates Fix: Instead of routines with repetitions like the past few days, the pilates workout focused on six series which focused on different areas: abs series, high-plank series, C-series, side series, Superman series and lower-plank series.
Day Five, Cardio Fix: I didn't know someone existed that could be more excited about the 21 Day Fix than Autumn, but there was Maddie, one of the girls on the video, making us all look bad. I've never done a burpee in my life and I kind of looked like a baby trying to stand up. And the oblique knee pulls were a cause of great concern because both of my hips continuously popped during the repetition. Hold that thought, let me check WebMD and see if there's something wrong with me…
Day Six, Dirty 30: The name is a lot more terrifying than the actual workout and I found it to be similar to the Total Body Cardio Fix, but less intense. I will say I still haven't mastered the art of the plank and lost my balance, causing me to fall flat on my face during the workout.
Day Seven, Yoga Fix: Woo-hoo! Recovery Day! I loved this workout because it gave me a chance to cool down, but I hated it at the same time because my mind wanders a lot during yoga. I fell behind and found myself laying on the ground questioning life a.k.a. in the Corpse Pose.
Lessons learned:
Buy heavier weights. Towards the end of the week, I found myself wanting to move on from my old aerobics weights and try harder. My lack of car stopped me from getting new ones.
Try harder at portion control. Between lunch outings, celebrations and the Super Bowl, I can say my diet went out the window.
Do the modified exercises when I'm tired!
Don't focus on losing weight. I haven't lost or gained any weight, but my resistance to the exercises is increasing and I feel better about myself. And who knows, this might be the thing to catapult me into marathon running. Jokes!
I'll try to not fall off the wagon this week! Any words of wisdom?
xx